Swedish Manufacturer Elitfönster Equips Drivers with Rugged Panasonic Tablets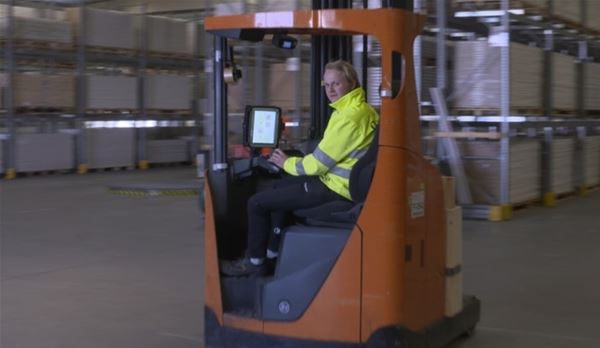 Swedish manufacturer Elitfönster adopts rugged Panasonic TOUGHBOOK tablets for efficient warehouse management, as part of the company's digitisation process.
BRACKNELL, UK. 18th July 2019 – Sweden's leading window manufacturer, Elitfönster, has equipped its truck drivers with rugged TOUGHBOOK G1 tablets for use in its warehouses to improve working efficiency and flexibility.
Historically Elitfönster's 1,000 drivers would record its warehousing information on paper. The company decided to find a streamlined solution to receive and manage all information digitally. "We felt a great need to digitise the company's vast amounts of paper-based information, which was previously kept in folders and piles of paper," explains Jens Sandvej-Grandin, Production Manager at Elitfönster. "We needed a solution that was durable, easy to carry, and could be used while wearing gloves, which TOUGHBOOK was able to offer."
The detachable, robust devices are conveniently placed in a docking station near the driver's seat, providing all the information required at the warehouse. The user-friendliness and durability of the devices was the main attraction for Elitfönster, with the ability to use the devices in extreme weather conditions a major requirement.

"Thanks to the new digital solution, we have halved the time it takes for the goods to go from reception to production," says Rasmus Kihlblad, Team Leader at Elitfönster. "The three main assets the TOUGHBOOK possesses are its user-friendliness, flexibility and the increased security it offers."
TOUGHBOOK G1 – Developed for extreme environments
The RUGGED 10.1" Windows TOUGHBOOK G1 tablet is equipped with a high-performance Intel Core vPro i5-6300u processor and a 14-hour battery life, with the option to replace the battery during operation. The device has several flexible configuration options that allow it to be equipped with built-in functionality, such as a 2D barcode scanner, GPS, Micro SD, 2. USB 2.0, wired LAN or smartcard reader.
Elitfönster also uses a number of Panasonic's rugged Android TOUGHBOOK N1 handheld computers for warehouse management. They are equipped with a built-in barcode reader, designed to speed scanning and to reduce the load on the user's wrists.
For the full video story click here https://www.youtube.com/watch?v=Fh8oPLbn-Rg.
Press contact:
Kiri O'Leary
The Amber Group
kiri@ambergroup.net
+44 (0)118 949 7737
About Elitfönster AB
With its wide range, Elitfönster AB is Sweden's leading window manufacturer embodying almost 100 years of Småland's traditions. The company has approximately 1,000 employees and is represented throughout Sweden. Since 2004 Elitfönster AB has been part of the listed Inwido Group, Europe's largest window group and a natural home for the region's strongest companies in the areas of comfort, indoor climate and safety. In 2018, Inwido reported revenues of SEK 6.7 billion. In total there are approx. 4,500 employees in the Group, which has business operations in Sweden, Finland, Denmark, the UK, Norway, Ireland, Poland, Estonia, Romania, Lithuania and Germany. Please visit www.elitfonster.se.
About Panasonic System Communications Company Europe (PSCEU)
Our quest is to make technology work invisibly together and free businesses to succeed. We believe technology should just work. That businesses will succeed if they can simply focus on their customers, in the knowledge that all the technologies delivering their capabilities work together. That is why we are dedicated to developing products and solutions that are so integrated with our customer's way of working, that they are almost invisible – the workhorse in the background that powers business success.
PSCEU is made up of six product categories:
Broadcast & ProAV gives you the freedom to tell the story with its high quality products and solutions, which ensure smooth operation and excellent cost-performance across a range of remote cameras, switchers, studio cameras and ENG P2HD. The cinema camera range of VariCam models and the EVA1 are capable of true 4K and High Dynamic Range (HDR) making them the ideal solution for cinema, television, documentary and live event production.
Communication Solutions offers world leading telephony systems, SIP terminal devices and professional 'network' scanners giving you the freedom to focus on the communication and not the connection.
Mobile Solutions Business Division helps mobile workers improve productivity with its range of TOUGHBOOK rugged notebooks, business tablets, handhelds and electronic point of sales (EPOS) systems. As European market leaders, Panasonic had a 48% revenue share of sales of rugged and durable notebooks and tablets in 2018 (VDC Research, March 2019).
Industrial Medical Vision manufactures applications for various segments such as medical, life science, ProAV or industrial. The product portfolio includes complete and OEM camera systems, providing the freedom to see what can't be seen.
Security Solutions, built on a heritage of providing evidential quality CCTV footage. Delivering the highest image quality in all environmental conditions using our highly reliable, advanced technology cameras and image recording systems, giving you the freedom to feel secure.
Visual System Solutions offers the widest range of professional displays and projectors and allows Audio Visual professionals the freedom to create. It leads the European high brightness projector market with a 39% market revenue share (Futuresource >5klm FY17 Q3, excl. 4K & digital cinema).
About Panasonic
Panasonic Corporation is a worldwide leader in the development of diverse electronics technologies and solutions for customers in the consumer electronics, housing, automotive, and B2B businesses. The company, which celebrated its 100th anniversary in 2018, has expanded globally and now operates 582 subsidiaries and 87 associated companies worldwide, recording consolidated net sales of Euro 62.5 billion for the year ended March 31, 2019. Committed to pursuing new value through innovation across divisional lines, the company uses its technologies to create a better life and a better world for its customers. To learn more about Panasonic: https://www.panasonic.com/global.
Source: RealWire